When someone says that a website has a great design, do you think that they are referencing the home page? Could it be the "About" page? What about the "Contact" page?
Unfortunately, it seems that all too often the "Contact" page is not as optimally designed as it should be. For some companies, this is one of the most commonly visited pages. And yet, too often we see it ignored by web designers.
This is a major mistake that many website designers and developers are making! Today, we're going to go over several tips for creating the PRIME contact page for the BEST user experience.
Examples of well designed 'Contact' pages
A well designed 'contact' page will provide your visitors all of the necessary information to reach you, as well as continue to sell your product or service through creating a strong relationship. Let's take a look at several well designed 'Contact' pages.
DaveRamsey.com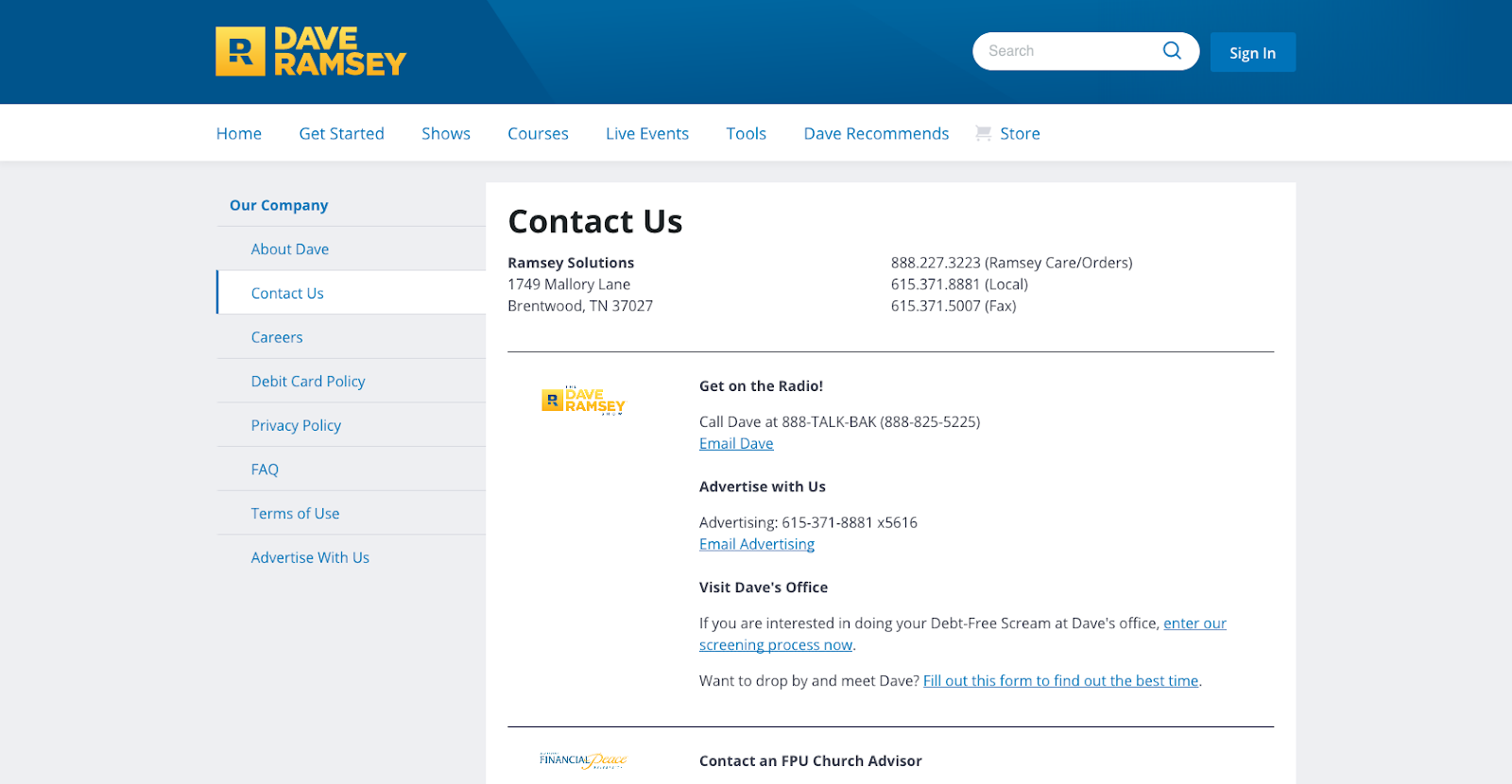 The well known financial expert, Dave Ramsey has a solid 'Contact' page. All of the contact information for Ramsey Solutions is above the fold, including the company address. Different than most 'Contact' pages, the Dave Ramsey 'Contact' page has several tabs which allow visitors to get additional information with just a single click.
If someone wants to know more about Careers or their policy on debit cards, they can easily get this information without having to bounce around their website. As there are multiple brands of Dave Ramsey, the designers have done an excellent job of separating each brand and making its own section on the page.
SwiftOtter.com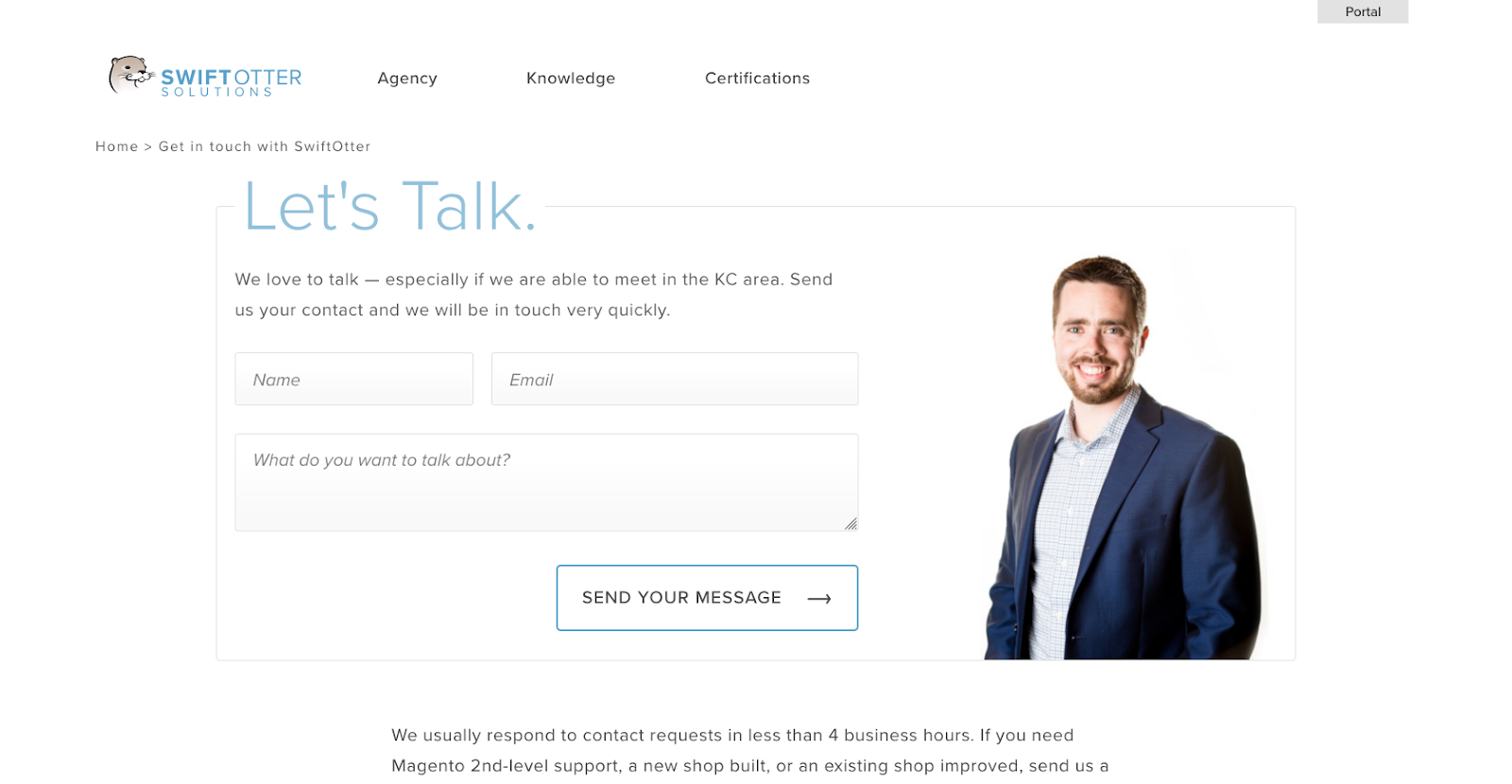 Many have found that personally connecting with your visitors can help build a relationship that will generate revenue. Swift Otter Solutions does and excellent job with building that personal connection through communicating with a simple line of text, "Let's Talk", alongside a photo of their CEO. They also have their contact form above the fold, making it super easy to have visitors contact them. Swift Otter communicates a clean and simplistic message on their 'Contact' page through their design and layout.
Hope4Nic.com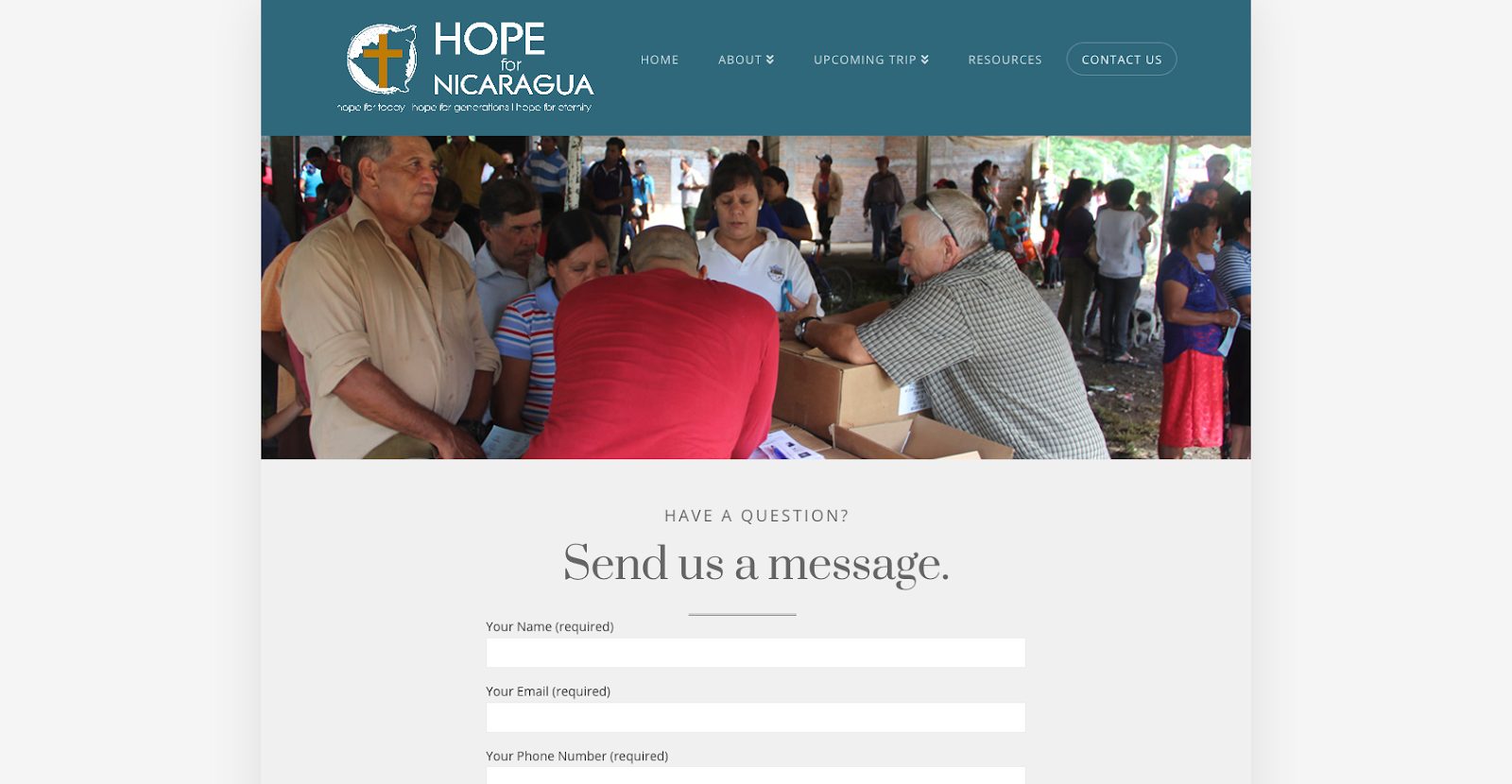 Hope for Nicaragua uses the power of images to convey a message via their 'Contact' page. Similar to Swift Otter, Hope for Nicaragua uses a very clean and simple design that invites visitors to make a connection with their organization. They also are using a blue color scheme which, in color theory, conveys peace and lightness. Even though the contact form isn't fully above the fold, they use a header image and header text to lead into the contact form, letting it flow easily.
Yeti.com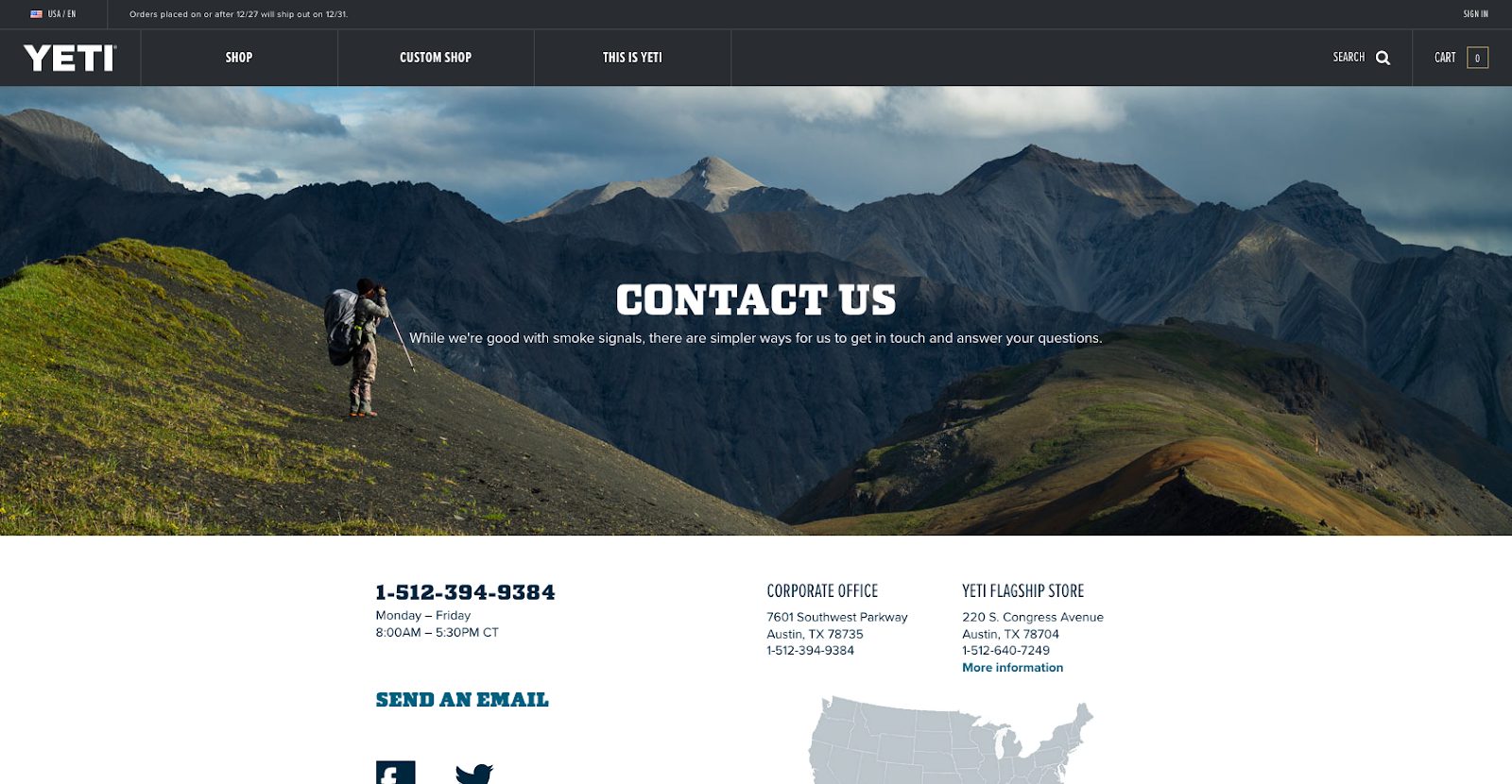 Yeti encourages their visitors to reach out through image and text. Right from their main image header, they allow their audience (outdoor lovers) to feel the connection of adventure and the beauty of creation. The text "While we're good with smoke signals, there are simpler ways for us to get in touch and answer your questions" connects at the same level as their image; a love for the outdoors and its beauty.
Similar to the Hope for Nicaragua website, Yeti's main header image helps flow into their contact information. Not only do they display a phone number to call, but also their addresses, social media, email address, and even a little map graphic showing where they're located. We think this 'Contact' page is brilliantly designed.
What do we see from these?
After looking at these four websites, there are several things that we see in common to building a PRIME contact page that will create an excellent user experience.
Include a contact form
Having a contact form on your 'Contact' page allows your visitors to know the exact information you need to best serve them.
A contact form can also be faster than sending an email, as visitors can easily fill out the form without having to mess with getting your email address.
Multiple methods of contact
Instead of just having a contact form on your 'Contact' page, be sure to include a phone number, email address, or even a link to your social media account. This can bring a level of confidence to customers, allowing them to know that they can contact you if something was to go wrong.
Remove any unnecessary information or fields.
Don't complicate your 'Contact' page by adding unnecessary information or fields on your contact form.
Use images to convey what your company/organization provides.
Using images on your 'Contact' page can convey what your website is all about through clean and simple images/designs.
Building the PRIME contact page isn't as hard as it may seem. Look over other websites that have developed and designed their 'Contact' pages well and learn from their work. As Anthony J. D'Angelo says, "Don't reinvent the wheel, just realign it."